Discover New York City: 15 Photo-Worthy Spots You Can't Miss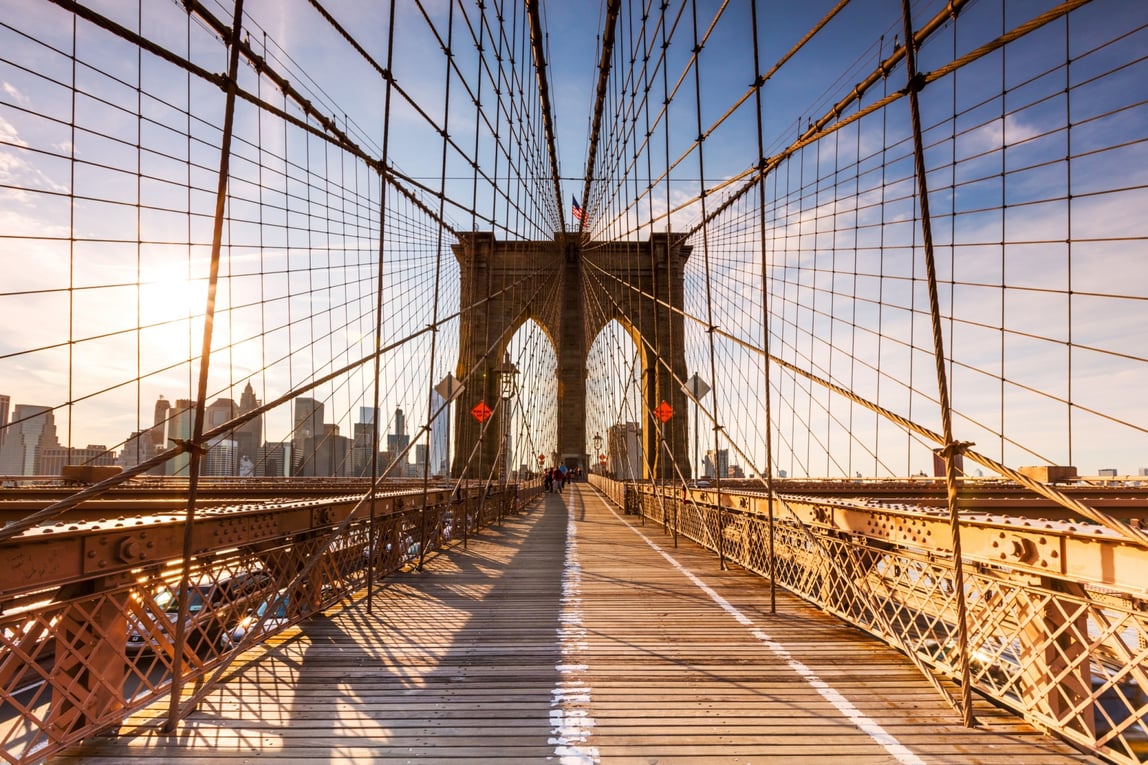 In New York City, almost every city block seems perfectly curated for an Instagram-worthy picture. From elegant skyscrapers to charming brownstones to picturesque cafés, New York City is unquestionably beautiful. There are so many places to explore that it's difficult to know where to start — but these beautiful destinations should be on any visitor's must-visit list.
From the lush gardens and Hudson River views of The High Line to the soaring atrium of Grand Central, here are the 15 most photo-worthy spots in New York City.
1. The Pond at Central Park
New York City's iconic Central Park covers 843 acres of gorgeous land in the middle of the city, and every inch of that land makes for a perfect photo op. However, one of the most beautiful spots in the park is The Pond — from land or from a rowboat, you can capture a view of Upper Manhattan and prime park greenery.
2. The High Line
The High Line, winding through the west side of Manhattan, is a juxtaposition of the city's rugged industry and urban flora. With views of Chelsea, Hudson Yards, and the Hudson River, the High Line is a must-see destination that deserves a prime spot on your Instagram.
3. Brooklyn Bridge
One of the city's most famous views, Brooklyn Bridge stretches across the East River. Whether you take a photo from Brooklyn Bridge Park or from The Battery at the tip of Manhattan, or from underneath the bridge's striking arches, the resulting photo will be full of New York flair.
4. Grand Central
Located in Midtown, Grand Central is an architectural marvel. If you're traveling to New York City by train — or if you're just in Grand Central for a look around — make sure to snap a photo in the Beaux-Arts style Main Concourse of the terminal.
5. Lincoln Center
This performing arts complex on the city's Upper West Side is famous for its incredible performances and attractive plaza. Come for a photo by the fountains but stay for a world-class ballet or opera by the New York City Ballet or the Metropolitan Opera.
6. Flatiron Building
One of the most-photographed locations in the city, the Flatiron Building is famous for its slim shape and resemblance to a clothing iron. Getting a photo in front of this quintessential New York destination is a must for visitors.
7. Empire State Building
The Empire State Building makes for beautiful photos — whether taken from its two panoramic observation decks or from anywhere on nearby streets, such as along Fifth Avenue.
8. Washington Square Park
This Greenwich Village park is a bustling hub of Lower Manhattan, featuring an iconic fountain and a replica of the Arc de Triomphe in Paris. With the arch as a backdrop, Washington Square Park is a beautiful location for Instagrammable photos that will be immediately suggestive of New York City.
9. The Metropolitan Museum of Art
Thanks to shows like Gossip Girl, the Met steps have become synonymous with Upper East Side luxury. The stately façade of the museum and the appealing stone steps make for a perfect photo op, as do the fascinating galleries within.
10. The Met Cloisters
The Metropolitan Museum of Art's The Cloisters is a museum in Upper Manhattan with extensive collections of medieval European art, which is reflected by the exterior. The museum's photo-worthy architecture is inspired by real French cloisters and their attractive medieval gardens.
11. The Edge
A protruding glass observation deck in Hudson yards, The Edge is a heart-stopping destination. The 100th-floor deck is the perfect place to capture 360-degree views of the city.
12. Spyglass Rooftop Bar
This luxurious rooftop bar is located in Midtown, with close-up views of the Empire State Building. With its combination of outdoor seating and intimate indoor space, Spyglass is the perfect place to grab a craft cocktail and a cute rooftop photo.
13. manhatta restaurant
In addition to its impressive interior, Manhatta offers a breathtaking view of New York City's skyline. The restaurant's location provides diners with a stunning vantage point to admire the city's iconic skyscrapers and bustling streets. Perched sixty floors up, embodying the spirit of a tried-and-true New Yorker, Manhatta is rooted in and inspired by the people that gravitate here. Whether you're enjoying a romantic dinner for two or celebrating a special occasion with family and friends, the view from Manhatta is sure to leave a lasting impression and make for a truly unforgettable photo opportunity.
14. Le Coucou
Le Coucou is a refined, elegant French restaurant in SoHo. Its high-end food and luxe decor make for an absolutely beautiful dinner photo spot. Whether you take a posed photo against the gorgeous hand-painted mural backdrop of the restaurant or a mouthwatering photo of the food, Le Coucou is a must-visit restaurant.
15. Columbus Avenue
From busy Columbus Circle to the brownstones further up the street, the entirety of Columbus Avenue is archetypal New York City. Every block of the street is worthy of a photo — especially Columbus Circle at sunset.
Make the most of your trip with a stay at The Wallace, a luxury hotel on the Upper West Side. Contact us for more information or check availability today.