Top 10 Broadway Shows Near the Upper West Side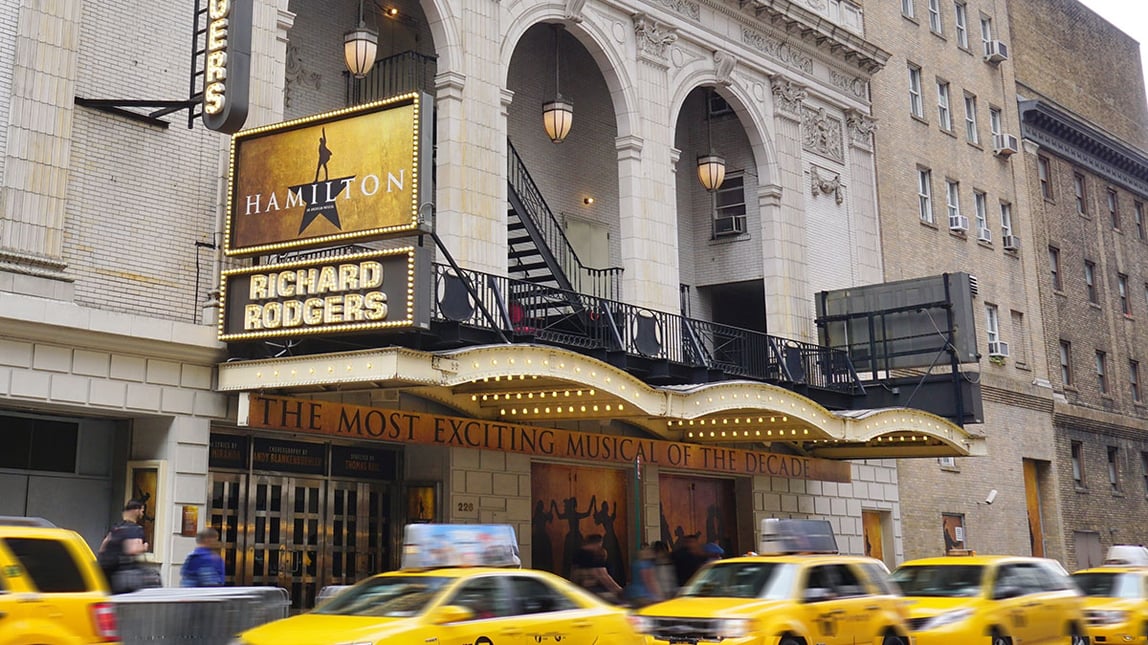 New York City's Upper West Side is known for being rich with culture — an identity that has a lot to do with its proximity to the incredible Broadway theaters in midtown West. Seeing a Broadway show is a must for anyone visiting New York City; staying on the Upper West Side allows you an incredible level of accessibility to whatever you want to see while ensuring that you have a respite from the hustle and bustle of midtown.
There's a wide range of shows on offer here, from modern plays to beloved classic musicals. Whether you regularly go to the theater or you're a first-timer, the shows will assuredly please you. From Lin Manuel Miranda's Hamilton to the long-time crowd favorite The Book of Mormon, there is something for everyone. Continue reading to discover more about the top ten Broadway shows near the Upper West Side, based on critical acclaim and popularity.
For guests of The Wallace, we've also included the driving and walking time from the hotel to each of these theaters.
Wicked (8 min. drive / 30 min. walk)
Since 2003, this popular Broadway adaptation of a book about the Wicked Witch of the West (in turn adapted from, of course, Frank L. Baum's The Wonderful Wizard of Oz), has been playing at Gershwin Theatre in midtown.
With shows nearly every day, this major blockbuster about the unlikely friendship between Elphaba, the Wicked Witch, and Galinda, the Good Witch, Wicked is a must-see if you're in town.
Hamilton (10 min. drive / 35 min. walk)
Lin Manuel Miranda's groundbreaking musical Hamilton is currently playing in Richard Rodgers Theatre. Using R&B and hip hop influences, Miranda tells the story of Founding Father Alexander Hamilton, creating an award-winning, beloved production.
The Lion King (10 min. drive / 36 min. walk)
Since 1997, The Lion King has been running on Broadway, holding the distinction of being the third-longest running Broadway production ever. It is based on the 1994 Disney movie of the same name, telling the story of Simba and his journey to inherit his animal kingdom. This classic is a favorite among children and adults alike.
The Book of Mormon (9 min. drive / 32 min. walk)
Musical comedy The Book of Mormon tells the story of two Mormon missionaries in Uganda, where the locals care far more about AIDS, famine, and oppression, among other issues, than their attempts at religious conversion. It has been showing at Eugene O'Neill Theatre since 2011, and is one of Broadway's most successful musicals of all time.
Aladdin (11 min. drive / 41 min. walk)
Yet another Disney adaptation has found success on Broadway: Aladdin, based on the 1992 film, set in Arabia, is a hit from its home at New Amsterdam Theatre. The titular Aladdin is a poor man who finds a genie in a bottle; he ends up falling in love with the princess and taking down an evil advisor. This musical is filled to the brim with beautiful choreography and expressive tunes.
Harry Potter and the Cursed Child (11 min. drive / 40 min. walk)
Return to the lore of childhood with a viewing of Harry Potter and the Cursed Child, a sequel to the Harry Potter series. Located in Lyric Theatre, this production is set 19 years after the end of the book series, and it follows Harry Potter and his youngest son, Albus Severus; it is acclaimed for its special effects and simulation of magic.
Chicago (8 min. drive / 33 min. walk)
The Chicago of the Jazz Age comes to life in Chicago, a longtime Broadway classic. It is the second-longest running Broadway production; it is a musical about women who are accused of killing their husbands. Located at The Ambassador Theatre, this show is an absolute operatic adventure.
Moulin Rouge! The Musical (9 min. drive / 36 min. walk)
A jukebox musical, a.k.a. a musical that uses popular songs rather than its own soundtrack, Moulin Rouge! The Musical is a spectacular show. Set during the Belle Époque in Paris, this vibrant musical centers around the Moulin Rouge cabaret, a famed French institution. This production, hosted in the Al Hirschfeld Theatre, is lively, tragic, and beautiful.
A Doll's House (11 min. drive / 39 min. walk)
A stunning, modern reinvention of Henrik Ibsen's 1879 play about marriage, A Doll's House opened recently in the Hudson Theatre on Broadway. Starring the Oscar-winning actress Jessica Chastain, director Jamie Lloyd's take on A Doll's House strips everything back, putting emotion, convention, and containment on full display.
Six: The Musical (10 min. drive / 34 min. walk)
Upbeat and pop, Six: The Musical gives the old tale of King Henry VIII's six wives a new lease on life — literally. The queens, of which two were divorced, two were beheaded, one died in childbirth, and the last outlived Henry, tell their story in the form of a pop concert, from the stage of the Lena Horne Theatre.
Spend your New York City in luxury with a stay at The Wallace. Book now!