Discover Light Spectacles in NYC This December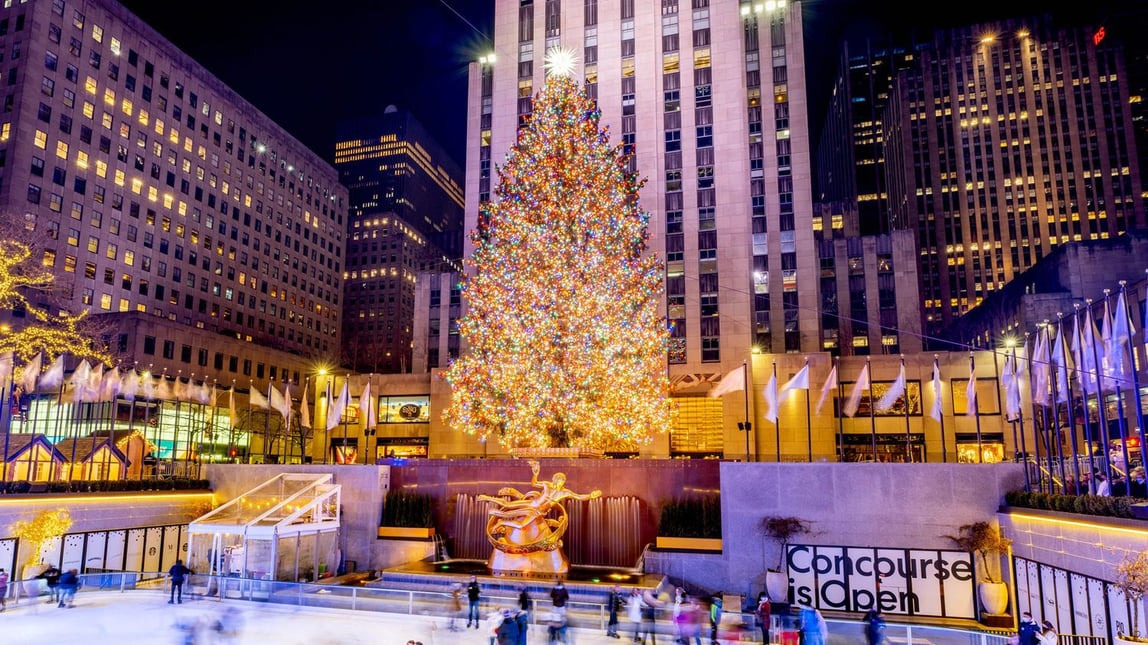 Nothing represents the holiday season in New York better than the stunning light displays that go up all across the city every year. The cold weather and ubiquitous Christmas music hint at the upcoming festivities, but the city's gorgeous lights are a surefire way to identify what time of year it is. Each year, parks and malls from Brooklyn to the Upper West Side brighten with light shows and holiday displays.
Continue reading for a guide to the best sights and holiday lights in New York City this December.
The Christmas tree at Rockefeller Center
Midtown Manhattan's Rockefeller Plaza is home to one of the most iconic holiday institutions in the city: a massive, dazzling Christmas tree bedecked with tens of thousands of lights and Swarovski ornaments. People come from across the city and the country to get a glimpse of this holiday fixture. This year—for the 89th time—the Rockefeller Center Christmas tree will officially be lit at a tree lighting ceremony on November 30th, and it will continue glowing until January.
Saks Fifth Avenue Light Show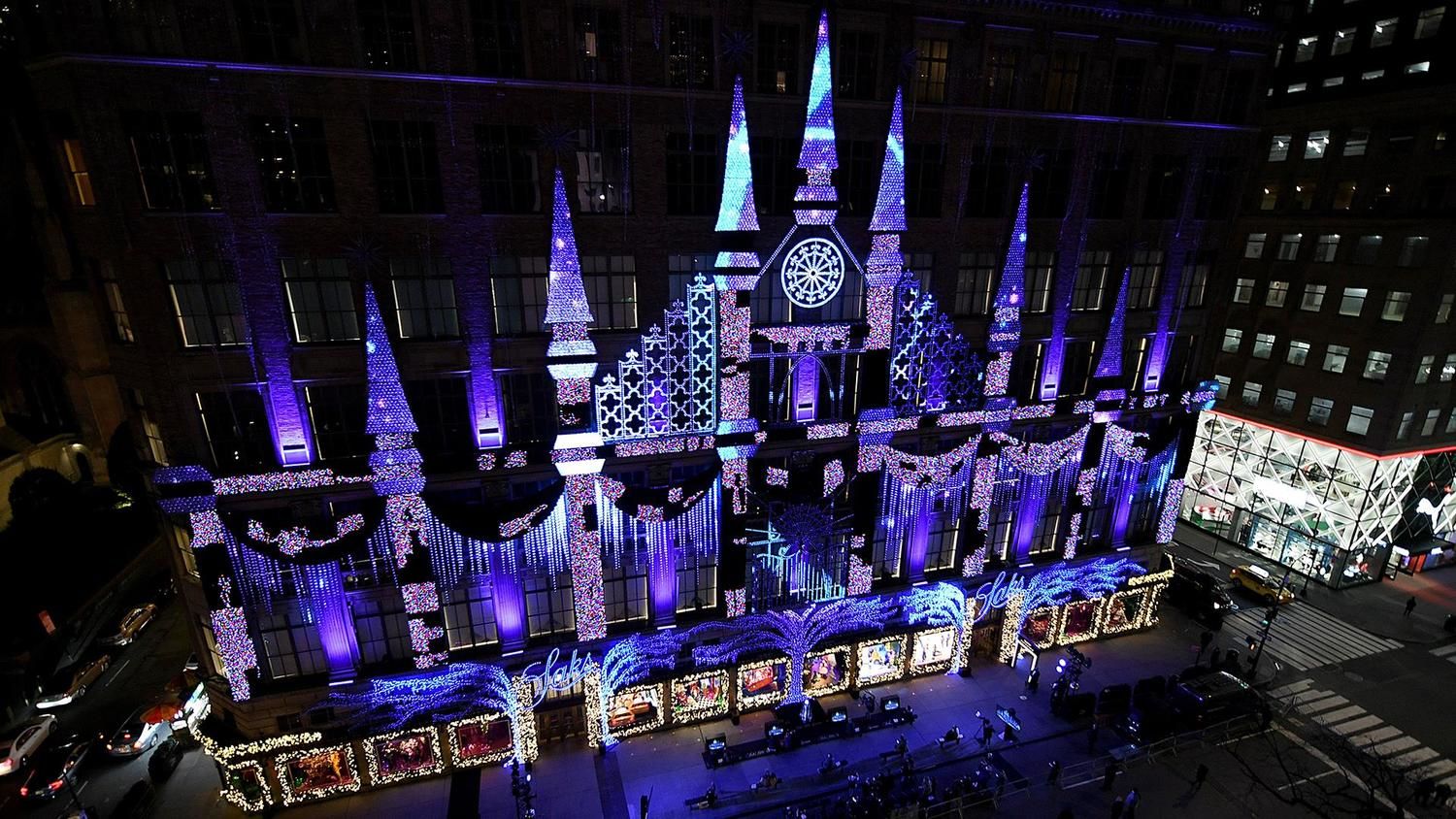 Fifth Avenue is not just a place to shop: it's also the place to bask in dozens of elaborate holiday window displays. In addition to these displays, though, Saks also puts on an extravagant light show on its storefront. The show is a couple minutes long and it plays every ten minutes throughout the late afternoon and evening from the end of November onwards.
Dyker Heights Lights
Dyker Heights is a Brooklyn neighborhood known for its exquisite, magnificent Christmas decorations, which awe visitors every year. Massive snowmen, light projections, wreaths, and Christmas trees adorn each yard and home, and carols play through outdoor speakers. This festive tradition has been around since the 80s, and it is sure to bring joy to everyone who passes by. There are even guides and tours available, so you can make the most of your visit.
Amaze Light Festival at Citi Field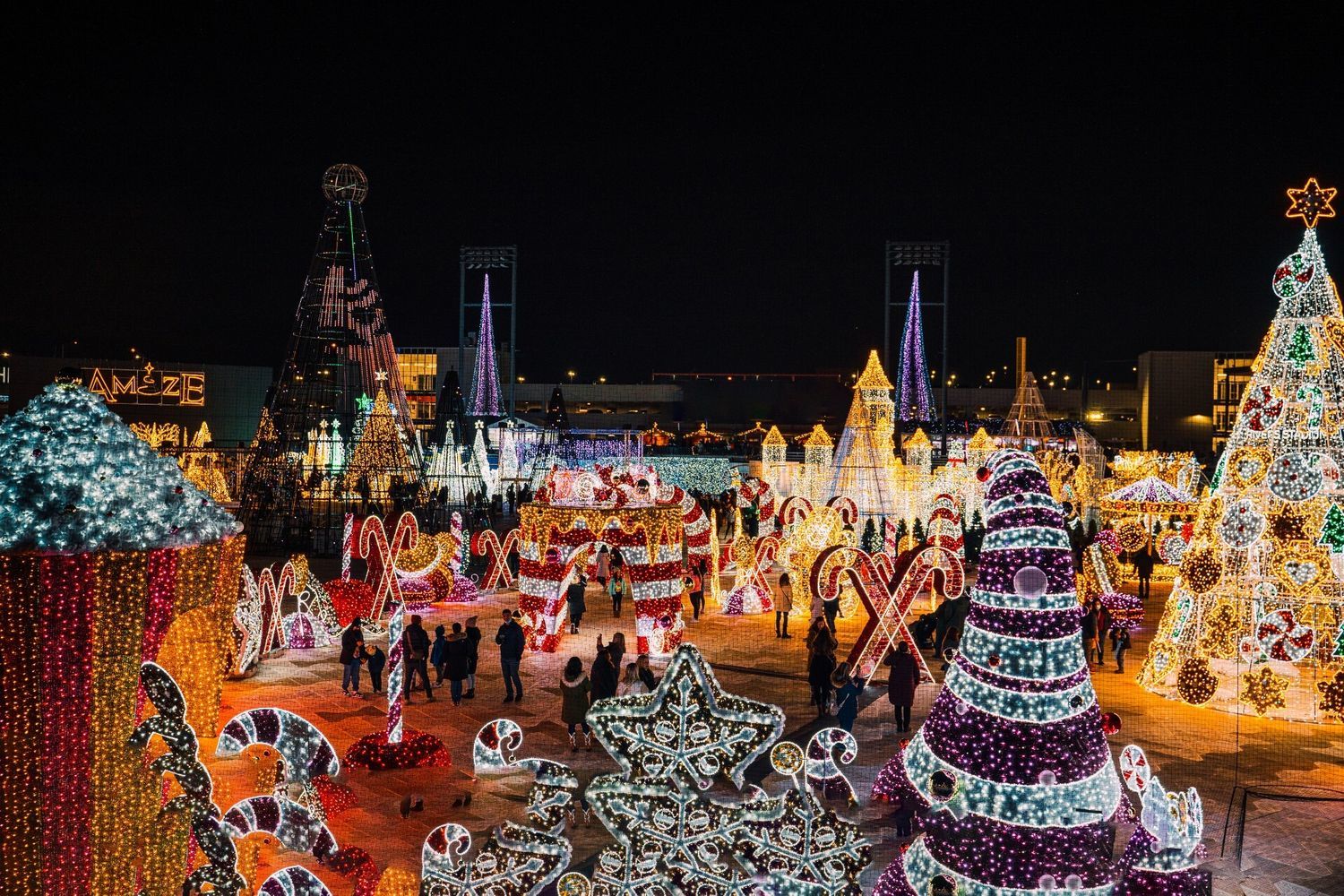 The largest light show in the country, Amaze Light Festival will take place at Citi Field in Flushing this year. This unforgettable collection of holiday displays include larger-than-life candy sculptures, sugar trees, storybook characters, and German-style cottages. The festival—which is perfect for families, couples, and friends alike—also offers food, drinks, and live music and dance performances. Purchase tickets to this months-long extravaganza here.
Brooklyn Botanic Garden's Lightscape
A fascinating mélange of spooky Halloween energy and lights so elaborate they serve as artwork, Brooklyn Botanic Garden's after-dark Lightscape is a must-see. Lightscape is the Garden's unique take on holiday lights—instead of just being a display, it's actually an illuminated trail. This spectacular light show is a series of beautiful exhibits and enchanting pathways, including a tunnel made completely of lights. Find out more about Lightscape on the Brooklyn Botanic Garden website. Open from November 16 to January 8, tickets are $40 for adults.
Holiday Under the Stars at Columbus Circle
This free, illuminated spectacle is the largest of its kind in the world, featuring a complicated design using specialty crafting and color mixing. The display consists of twelve 14-foot star sculptures that hang in the main room of the Upper West Side's Shops at Columbus Circle. The Shops are also home to a holiday market you can explore after a look at the festive star display. The entire Holiday Under the Stars exhibit is on show from early November to early January.
Shine Bright at Hudson Yards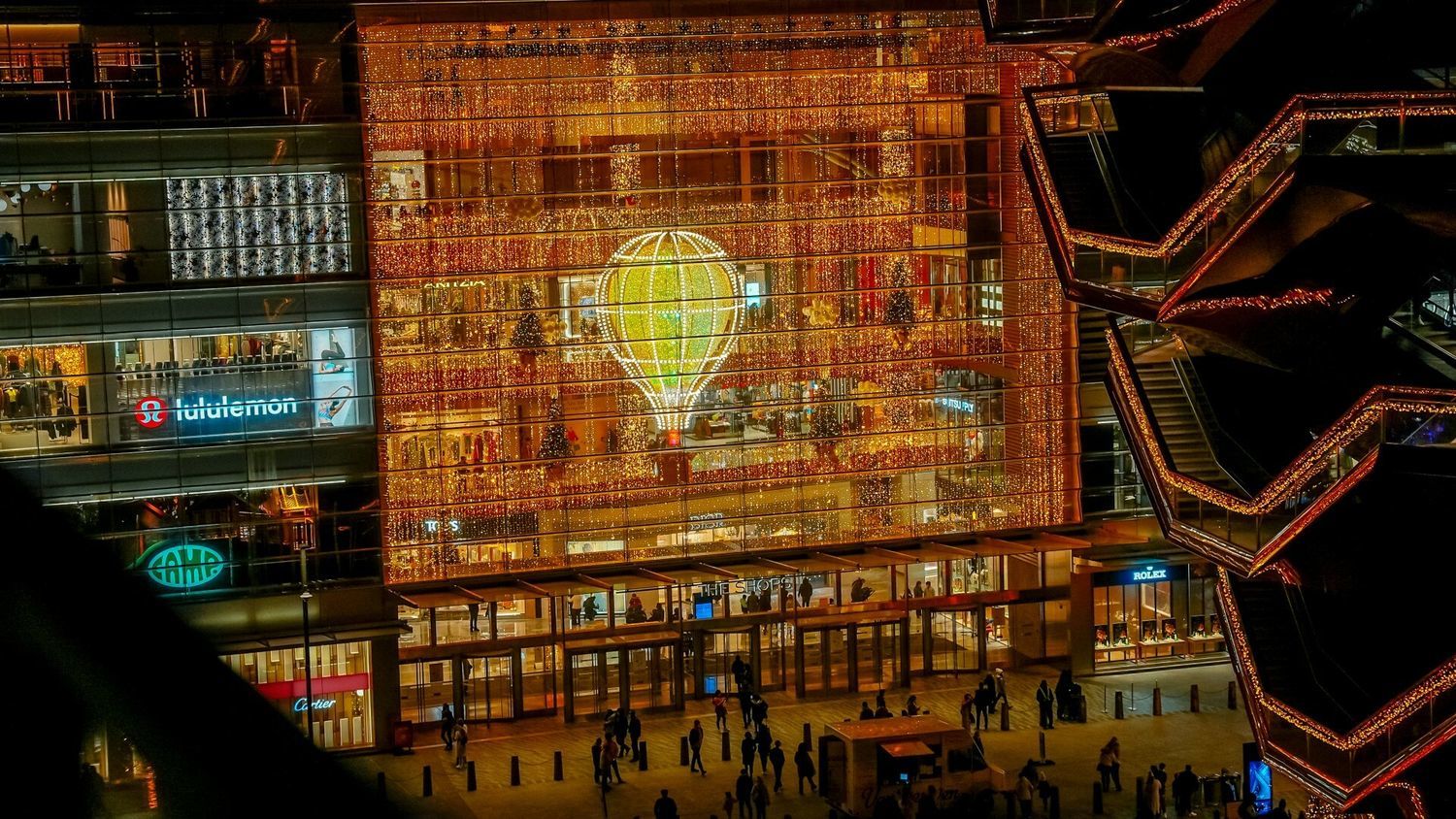 One of the newest light displays in New York City, Shine Bright can be found at The Shops at Hudson yards, by the Vessel. This gorgeous collection of string lights and illuminated designs is an indoor-outdoor experience, making it the perfect place to relax after a winter stroll on the High Line. The display includes everything from a life-sized hot air balloon to countless Christmas trees, as well as a light show complete with festive music You can see this light display until January 8.
Holiday Lighting at Central Park
No sight is quite as dazzling as seeing all of Central Park lighting up for the holidays. This family-friendly holiday lighting celebration takes place at the park's Charles A. Dana Discovery Center on the first of December. It's an annual event that has taken place for more than twenty years in a row; it is popular for its unique Christmas tree flotilla, which sails across the water of the park's Harlem Meer. This free holiday lighting also offers caroling, hot cocoa, festive treats, and a visit from Santa.
Winter Lantern Festival
Billed as a "whimsical world of light," the Winter Lantern Festival is a new take on the traditional Chinese-style lantern festival. The festival encompasses four different New York City events this year: Journey to the East on Staten Island, with over 1000 handmade lanterns; the Drive-Thru Adventure at the Nassau County Museum of Art; the Suffolk Winter Lantern Festival in Smithtown; and Illuminate the Farm in Queens, which transforms the agricultural area into an oasis of light. No matter which event you choose, you are sure to be dazzled by the sheer artistry and number of lanterns.


Stay at The Wallace to spend your holidays in a luxury hotel surrounded by the joy of Christmas. Book now!